Posts for tag: dental implants
By Fern Creek Dental
November 01, 2018
Everyone has to face the music at some time — even John Lydon, former lead singer of The Sex Pistols, arguably England's best known punk rock band. The 59-year old musician was once better known by his stage name, Johnny Rotten — a brash reference to the visibly degraded state of his teeth. But in the decades since his band broke up, Lydon's lifelong deficiency in dental hygiene had begun to cause him serious problems.
In recent years, Lydon has had several dental surgeries — including one to resolve two serious abscesses in his mouth, which left him with stitches in his gums and a temporary speech impediment. Photos show that he also had missing teeth, which, sources say, he opted to replace with dental implants.
For Lydon (and many others in the same situation) that's likely to be an excellent choice. Dental implants are the gold standard for tooth replacement today, for some very good reasons. The most natural-looking of all tooth replacements, implants also have a higher success rate than any other method: over 95 percent. They can be used to replace one tooth, several teeth, or an entire arch (top or bottom row) of teeth. And with only routine care, they can last for the rest of your life.
Like natural teeth, dental implants get support from the bone in your jaw. The implant itself — a screw-like titanium post — is inserted into the jaw in a minor surgical operation. The lifelike, visible part of the tooth — the crown — is attached to the implant by a sturdy connector called an abutment. In time, the titanium metal of the implant actually becomes fused with the living bone tissue. This not only provides a solid anchorage for the prosthetic, but it also prevents bone loss at the site of the missing tooth — which is something neither bridgework nor dentures can do.
It's true that implants may have a higher initial cost than other tooth replacement methods; in the long run, however, they may prove more economical. Over time, the cost of repeated dental treatments and periodic replacement of shorter-lived tooth restorations (not to mention lost time and discomfort) can easily exceed the expense of implants.
That's a lesson John Lydon has learned. "A lot of ill health came from neglecting my teeth," he told a newspaper reporter. "I felt sick all the time, and I decided to do something about it… I've had all kinds of abscesses, jaw surgery. It costs money and is very painful. So Johnny says: 'Get your brush!'"
We couldn't agree more. But if brushing isn't enough, it may be time to consider dental implants. If you would like more information about dental implants, please call our office to schedule a consultation. You can read more in the Dear Doctor magazine articles "Dental Implants" and "Save a Tooth or Get an Implant?"
By Fern Creek Dental
July 14, 2018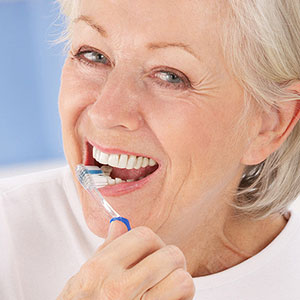 Dental implants to replace teeth are a popular choice as much for their durability as their life-likeness. Most implants last for decades, which can result in lower long-term maintenance costs than other replacement options.
But to achieve this longevity, you must take care of your implants. You should brush and floss them daily right along with your remaining natural teeth — and continue regular semi-annual dental visits for cleanings and checkups.
You may be wondering, though: if they're made of inorganic materials, why worry with brushing them? It's true that bacterial plaque, the thin film of food particles most responsible for dental disease, doesn't affect them.
Your implants, though, don't exist in a bubble: they're imbedded in real bone, surrounded by real gum tissue and placed next to real teeth. All these other living tissues are susceptible to infection caused by plaque, even from plaque on non-organic implants.
The bone and tissues around an implant can even have a higher susceptibility to infection. This is because an implant's attachment in the jaw differs from that of natural teeth. An implant is imbedded directly into the bone; a natural tooth, on the other hand, maintains its hold through an elastic gum tissue between it and the bone called the periodontal ligament. Tiny fibers from the ligament attach to the tooth on one side and to the bone on the other.
Besides holding the tooth in place, the ligament also contains blood vessels that supply the tooth and surrounding tissues not only with nutrients but also antibodies that help fight infection. Due to the absence of a ligament connection, an implant doesn't enjoy the same level of protection from infection. Â It's much easier for tissues and teeth around an implant to become infected, and harder to stop it.
That's why prevention through daily hygiene is so important. So, be sure to brush and floss all your teeth — including implants — every day, and keep up your regular dental visits. And at the first sign of a possible infection — swollen, red or bleeding gums — see us as soon as possible for an examination.
Consider your implants a long-term investment in both your smile and dental health. Taking care of them will pay dividends for many years to come.
If you would like more information on taking care of your dental implants, please contact us or schedule an appointment for a consultation. You can also learn more about this topic by reading the Dear Doctor magazine article "Dental Implant Maintenance."
By Fern Creek Dental
June 04, 2018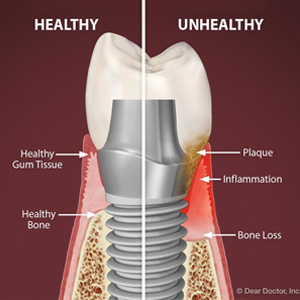 You've invested quite a bit in your new dental implants. And it truly is an investment: because of implants' potential longevity, their long-term costs could actually be lower than other restorations whose upfront costs might be less.
But to better ensure their longevity, you'll need to keep your implants and the natural tissues supporting them clean of bacterial plaque, a sticky biofilm that can cause periodontal (gum) disease. Although the implant itself is unaffected by disease, the natural tissues around it can be.  An infection could ultimately weaken the bone supporting the implant and lead to its failure.
Such an infection involving implants could advance rapidly because they don't have the natural defenses of the original teeth. Our natural teeth are connected to the jaw through the periodontal ligament, a collagen network that attaches to both the teeth and the bone through tiny tissue fibers. This connection also provides access to antibodies produced by the body to fight infection.
By contrast, we place implants directly into the jawbone. While this creates a very secure attachment, the implant won't have the same connection as teeth with the body's immune system. That means any infection that develops in surrounding tissues can spread much more rapidly—and so must be dealt with promptly.
Treating this particular form of gum disease (known as peri-implantitis) is similar to infections with natural teeth and gums, with one important difference involving the tools we use to remove plaque from them. While natural teeth can handle metal scalers and curettes, these can create microscopic scratches in the porcelain and metal surfaces of an implant and create havens for further bacterial growth. Instead, we use instruments made of plastic or resin that won't scratch, as well as ultrasonic equipment to vibrate plaque loose.
To avoid an infection, it's important that you brush your implants and surrounding tissues just like you would your natural teeth (be sure you use a soft-bristled brush). And keep up regular dental visits for thorough cleanings and checkups to stay ahead of any developing gum infection. Maintaining your dentures will help ensure they continue to brighten your smile for a long time.
If you would like more information on dental implants, please contact us or schedule an appointment for a consultation. You can also learn more about this topic by reading the Dear Doctor magazine article "Dental Implant Maintenance: Implant Teeth Must be Cleaned Differently."